A study by Webb et al. in 2015 found that premature babies exposed to their mother's heartbeat and voice recordings in the NICU had a significantly larger auditory cortex, the part of the brain which is responsible for the development of hearing and language skills. Another study by Spencer et al. (1990), found that babies who listened to white noise fell asleep more easily.
A mother's heartbeat is known to be one of the first sounds that a baby recognises in the womb and babies are often soothed when held close to their mother's heart. The Welcare Sleep-Tight Sleep Sound Machine's unique feature of recording and playing the mother's own heartbeat is a game changer that creates an environment of a soothing familiar sound that the baby recognises when they leave the womb and enters the big noisy world.
The Sleep Sound Machine allows mothers who can't be with their baby for a variety of reasons such as hospital care, working mothers and mothers who just need some "me" time, know that their baby will be comforted in their absence. The machine can record the heartbeat of any primary caregiver if desired.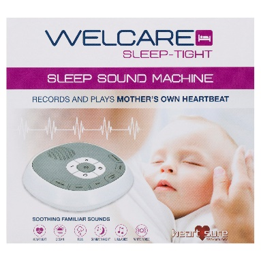 The Sleep Sound Machine also has an additional 4 pre-recorded relaxing sounds – which include Ocean, Rain, Summer Night and White Noise. It also features 4 soothing lullabies (Twinkle Twinkle Little Star, Brahms Lullaby, Sleepy Lullaby & Soothing Music Box Lullaby). All these sounds including the mother's heartbeat can be played on the timer settings of 15min, 30min, 60min or continuously. The volume is also adjustable with 7 levels (including a mute) so that parents can create the best sleep environment for their baby.
For the travelling families, the Sleep Sound Machine is portable, has a hanging strap to and runs on 3 x AA batteries. This makes it easy for parents to take it almost anywhere with them. Note it is important to keep the product at least 30cm (at the lowest volume) or 100cm (at the highest volume) away from children whilst in use to prevent any noise damage to their developing ears.
The sleep sound machine makes a great baby shower or newborn gift and grey and white colour suit most modern nurseries.
References:
Webb et al. (2015). Mother's voice and heartbeat sounds elicit auditory plasticity in the human brain before full gestation, PNAS, 112 (10): 3152-3157.
Spencer et al. (1990). White noise and sleep induction. Archives of Disease in Childhood, 65(1): 135-137.