Introducing the NEW Centrum Benefit Blends range.
Tailored to support your body and mind.
NEED TO GET WELL SOONER?

Need help to get you back to feeling your best? Centrum Immune Defence & Recovery combines andrographis and vitamin C to help reduce the severity and duration of common cold symptoms, plus zinc to support immune system function. It also contains ingredients traditionally used in Western Herbal Medicine, including echinacea to relieve symptoms of mild upper respiratory tract infections and olive leaf extract to reduce body temperature.




NEED A RESTFUL SLEEP?

Enjoy a relaxed and restful sleep so you wake up feeling refreshed. Centrum Rest & Renew combines ingredients traditionally used in Western Herbal Medicine, like passion flower to promote a relaxed sleep and humulus to help relieve nervous tension and restlessness, as well as magnesium to support general health and wellbeing.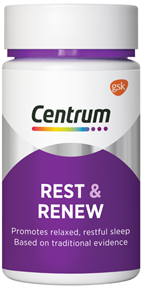 NEED TO FOCUS?

Give your brain support to stay on track. Centrum Mind & Memory combines brahmi, traditionally used in Ayurvedic Medicine, to help improve memory and cognition, as well as ginkgo and ginseng to support mental concentration, focus and clarity.




NEED TO KEEP MOVING?

Give your joints the support they need to keep you moving! Centrum Movement & Mobility combines a tailored blend of glucosamine to reduce mild joint pains associated with mild osteoarthritis, chondroitin to support healthy joint cartilage production, plus copper and manganese to support bone health and collagen formation.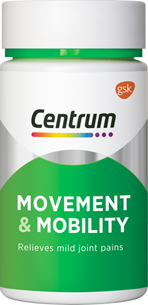 What does your body need? Choose Your Centrum | Centrum

These medicines may not be right for you. Read the label before purchase. Follow the directions for use. If symptoms persist, talk to your health professional. Vitamin and mineral supplements should not replace a balanced diet.

Visit your local Blooms The Chemist store and speak to your pharmacy team for more information.