Finding the mask that is best for you is important for your sleep therapy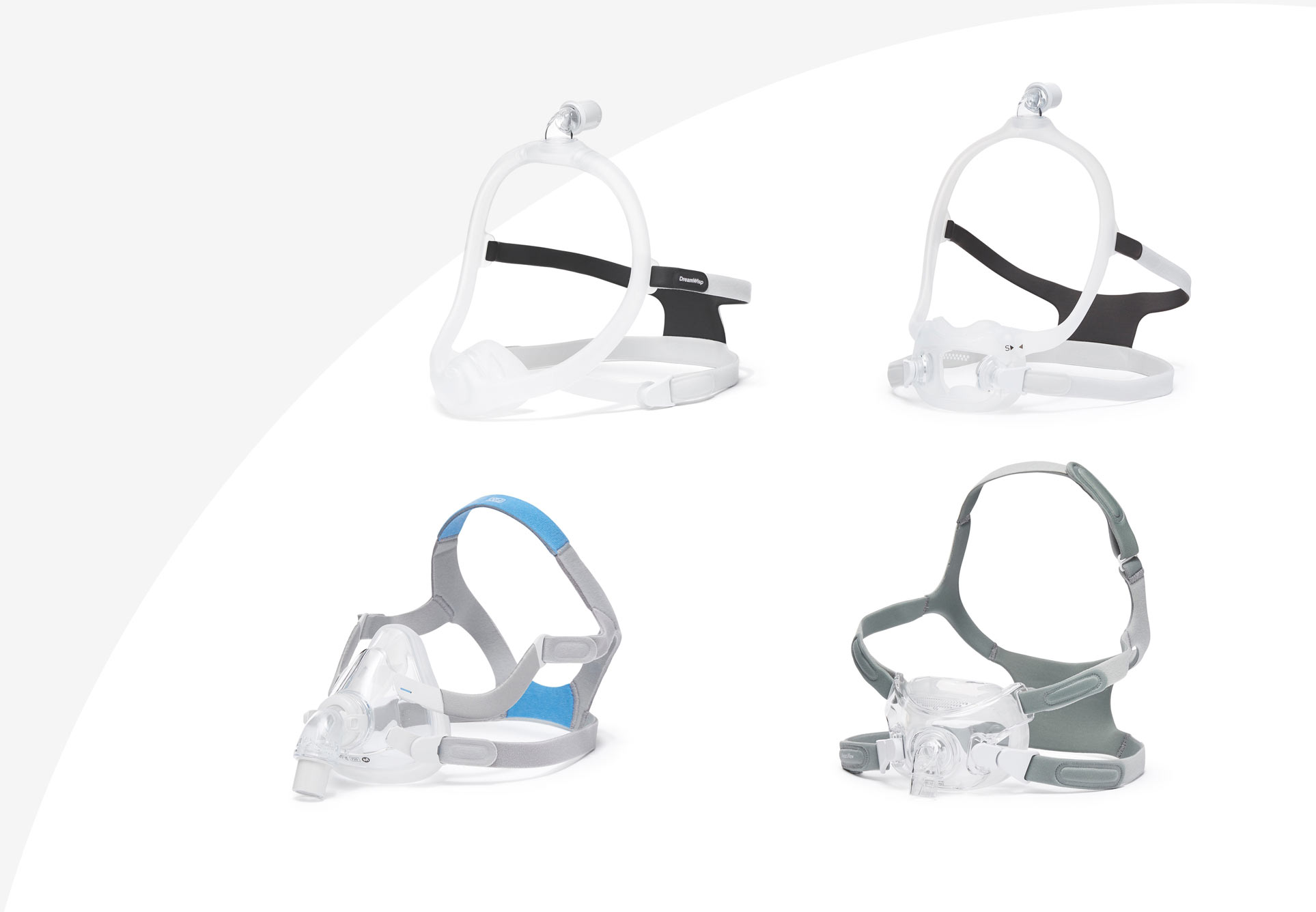 Understanding CPAP Mask Types

There are four main types of CPAP masks:
- Full face mask - this type of mask covers your mouth and nose and might suit you best if you cannot breathe comfortably through your nose.
- Nasal mask - covers your nose
- Nasal pillow mask - sits at your nostrils
- Under the Nose - sits under your nose like a cradle
CPAP Mask Sizing & Fitting

Your CPAP mask should fit snuggly and comfortably so that there are no leaks. CPAP masks are available in multiple sizes and your size will depend on the key measurements of your face. If you are unsure of your size use this Philips Respironics guide to give you an indication of size.
If you currently use a CPAP machine and want to find its size, see the base of the nasal piece of the mask where the size is printed.
Do all masks fit with all machines?
Yes, all CPAP masks will fit with any CPAP machines, excepting the ResMed Airmini which requires a specific ResMed mask.
How do I work out what size of mask I currently use?
The size of your mask will be printed on the nose piece.
How do I clean my CPAP mask?
Refer to your CPAP mask guidelines for cleaning recommendations. Avoid soap with conditioners or moisturisers and do not use bleach, alcohol or cleaning solutions that contain alcohol.
How do I clean my mask headgear?
Your headgear can be removed and washed weekly or as needed. Wash your headgear in warm soapy water and leave flat to dry or line dry. Do not put your headgear in a dryer.
What should I do if my mouth is dry?
You may be sleeping with your mouth open. Using a chin strap with a nasal mask to stop your mouth from opening during sleep may help, or consider a full face mask
What should I do if my mask leaking?
Follow the steps in the mask user guide to make sure you are fitting the mask correctly and check your mask, tubing and CPAP machine connections. Try putting your mask on before connecting to tubing or turning on your CPAP machine. Putting your mask on after turning the air pressure on might crease or twist your mask and create leaks. You might also have leaks if your mask is too tight which can be fixed by adjusting your headgear straps.
What should I do if my mask leaves marks on my face?
Try adjusting your mask and headgear straps so that you can achieve a good seal but with less pressure on your face.
When do I need to replace my mask?
You should replace your CPAP mask when it shows signs of wear and tear or has stiffness, cracks or tears or the seal has deteriorated.
Please note that due to hygiene reasons, we are not able to offer a return or refund if the packaging for your mask has been opened.
If you are unsure about the size you need, you can visit your local Blooms The Chemist store or contact us at help@bloomsthechemist.com.au and we will put you in touch with one of our CPAP specialist team members.
---
Let's find your nearest Blooms The Chemist